"She has heart this girl and a bit of torture driving it… A premium artist finding new ways to separate herself."  
– Sydney Morning Herald
"The perfect art-pop production… solidifies her reputation as one of Oz's most arresting performers."
– Little Indie Blog
"It's straight-up, full pelt pop. But with a twist." 
– Bittersweet Symphonies
Roll out the red carpet… Brissie bombshell Sahara Beck is set to reign supreme with her glorious new EP, Queen Of Hearts, out today.
Lovingly crafted by ARIA Award-nominated producer Tony Buchen (Mansionair, Courtney Barnett, Montaigne), it's fearless, flamboyant and brimming with seductive art pop, with Sahara's sensuous voice shining front and centre. Two years in the making, it stars her previous singles 'Here We Go Again', 'I Haven't Done a Thing Today' and 'Don't Overthink It', which has already won over fans, radio stations and streaming services around the country.
LISTEN TO SAHARA BECK'S NEW EP QUEEN OF HEARTS
Hot on their heels comes two new stunners, 'Queen Of Hearts' and '21st Century'. All suave synth and heady hooks, the title track sees Sahara spinning heartbreak into hope as she wrestles with love lost and finding herself. Over sombre piano and swelling strings, stunning slow burner '21st Century' scans the bigger picture and laments humanity's apathy and inaction in the face of a climate emergency.
Every song comes as a compelling confessional, set to a glorious pop pulse. It's raw and too honest, but self-reflection has never sounded so sweet or entrancing. "Power through vulnerability" is a theme that courses through Queen Of Hearts, although Sahara didn't realise it until the songs sat side by side. Confiding in her craft, she's found strength in her flaws and wears them proudly.
"Being honest can get me into trouble a lot but I can't really be any other way," reveals Sahara. "Songwriting definitely does help me understand, process and move on from things and thoughts."
Beck is now set to take off on a national tour to support the record, beginning Monday, October 7 at the Caloundra Music Festival in her home state of Queensland. Tickets are on sale now from saharabeck.com.au
All this music was brought to life by Beck's work with Buchen and honed at his Kingsized Soundlabs studio. The pair first collaborated in 2017 and the connection was so strong, Sahara couldn't wait to get back.
"I spent two years throwing my heart and soul into these songs and my instinct was that Tony could help me take these songs to a place I'd only been dreaming of," she says about her studio buddy. "I like how much he pushed me every day – more than anyone had before – and he got me to sing in ways I didn't know I could."
It's an inspiring evolution for a girl who wrote her first song at 12 and an exciting new page in a CV that already includes one album to date, two EPs, winning a QLD Music Award (the Carol Lloyd Award for emerging Queensland female singer-songwriters) and taking home third prize in the coveted Vanda & Young International Songwriting Competition, festival appearances at Bluesfest, Bigsound and The Falls Music & Arts Festival, plus support slots with Bishop Briggs, Kim Churchill and Paul Kelly.
An impressive list already and one that's bound to grow exponentially off the back of the release of this latest record, as Sahara Beck continues to cement herself as one of the most unique talents in Australian music and a queen of hearts in her own right.


SAHARA BECK QUEEN OF HEARTS TOUR 2019
Tickets and info: www.saharabeck.com.au
Monday, Oct 7 – Caloundra Music Festival, Qld
Friday, Oct 18 – The Foundry, Brisbane, Qld
Thursday, Oct 31 – The Workers Club, Melbourne, Vic
Friday, Nov 1 – Sooki Lounge, Belgrave, Vic
Saturday, Nov 2 – The Lost Lands, Werribee, Vic
Thursday, Nov 7 – The Vanguard, Sydney, NSW
Friday, Nov 8 – The Cambridge Side Room, Newcastle, NSW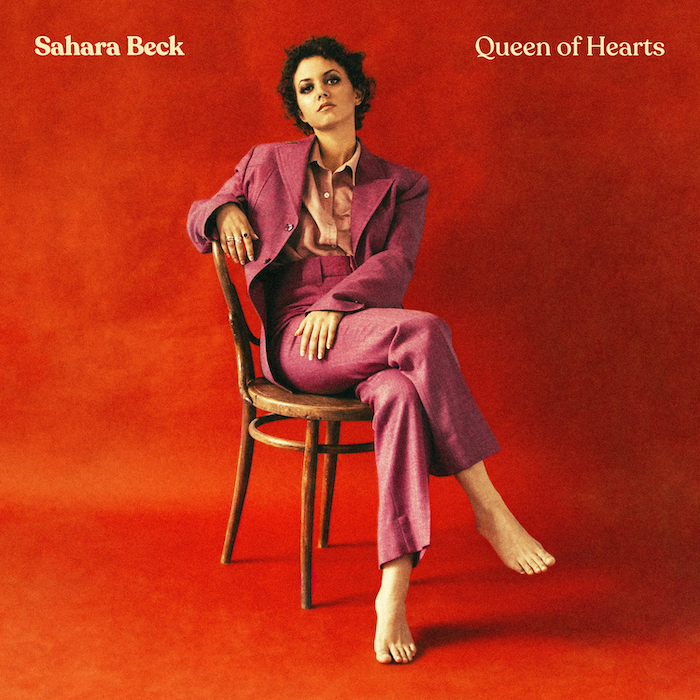 Sahara Beck – Queen Of Hearts is available now via Dew Process.
Queen Of Hearts Track-listing:
1. Don't Overthink It
2. Queen Of Hearts
3. Here We Go Again
4. I Haven't Done A Thing Today
5. 21st Century