SAHARA BECK
RELEASES SOPHOMORE ALBUM
ALL ATTENTION ON YOUR EMOTIONS
+ SHARES FOCUS TRACK 'COMPROMISE'
++ ANNOUNCES NATIONAL ALBUM TOUR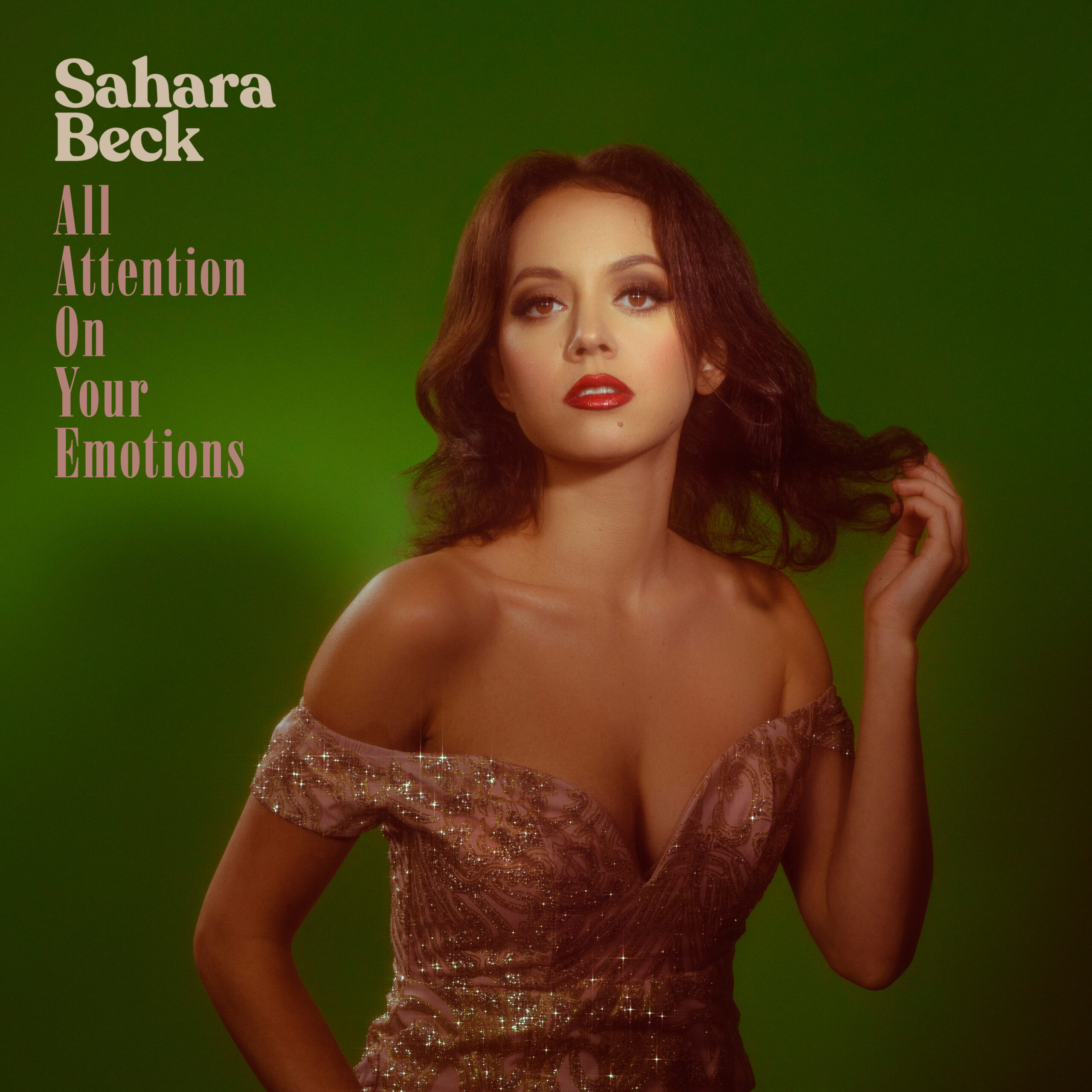 'She exudes a star quality' -THE TIMES (UK)
'The genre-challenging pop powerhouse and theatrical majesty' -THE MUSIC (AUS) 
' A creative dynamo and a musical chameleon' – POP FAD (SE) 
'Dramatic, suspenseful, and cathartic' – THE REVUE (US)
'The range of an Aguilera and the edge of an Amy. A real discovery' -QUEERGURU (UK)
[Friday, 27th October] Today, critically acclaimed singer-songwriter Sahara Beck releases her sophomore album, All Attention On Your Emotions, the highly-anticipated follow-up to her critically acclaimed debut album, Panacea. Created in collaboration with ARIA Award winning Producer/Engineer/Songwriter Kon Kersting (Tones And I, The Jungle Giants, Milky Chance, Spacey Jane), All Attention On Your Emotions is Sahara's most raw and vulnerable anthology of music to date, featuring ten tracks, including recent releases 'Hard To Tell', 'Thinking Twice' and 'Hunter', that delve into the complexities of the human condition.
Says Sahara of the album, 'When I reflect on this record, I'm reminded of how much writing I've actually done across the years, the amazing people I've had the pleasure of writing with and the experiences and places that were all part of it. There are so many songs that have not made this record, and I can't wait to release those at some stage. But the songs on this record are the ones that fit together best for myself and for Konsti [Kon Kersting]'.
Thematically, All Attention On Your Emotions is inspired by Plutchik's 'Wheel of Emotion', with each song taking on an emotional 'character'– from envy, jealousy and heartbreak to love, admiration and hope. Through the use of contrasting vocal techniques and agile musical composition, the album takes listeners on a psychological odyssey, artfully dissecting the euphoric highs, the melancholic lows, and the various shades of light and dark experienced universally by humankind.
Penned during a period of deep introspection, All Attention On Your Emotions is a testament to Sahara's relentless pursuit of self-discovery and evolution. In her own words, 'At the beginning of writing this album, I felt like a very loud person with lots to say, and so perhaps production-wise and vocally, you can hear that. But now, after all of this writing and reflection, I realise that I still have so much to learn and so much listening and watching to do.' She continues, 'At present, I feel like a completely different person to the person who wrote these songs, but without writing these songs, I don't think I would have been able to become the person that I am now.'
In support of the release, Sahara will embark on a national headline tour from Feb-March 2024. The tour, supported by Cult Artists and Secret Sounds Artist Management, kicks off in Ipswich on 9 February before moving on to Brisbane, Maroochydore, Sydney, Wollongong, Belgrave, Melbourne, Castlemaine, Adelaide, Perth and Fremantle!
Tickets On Sale Now: here.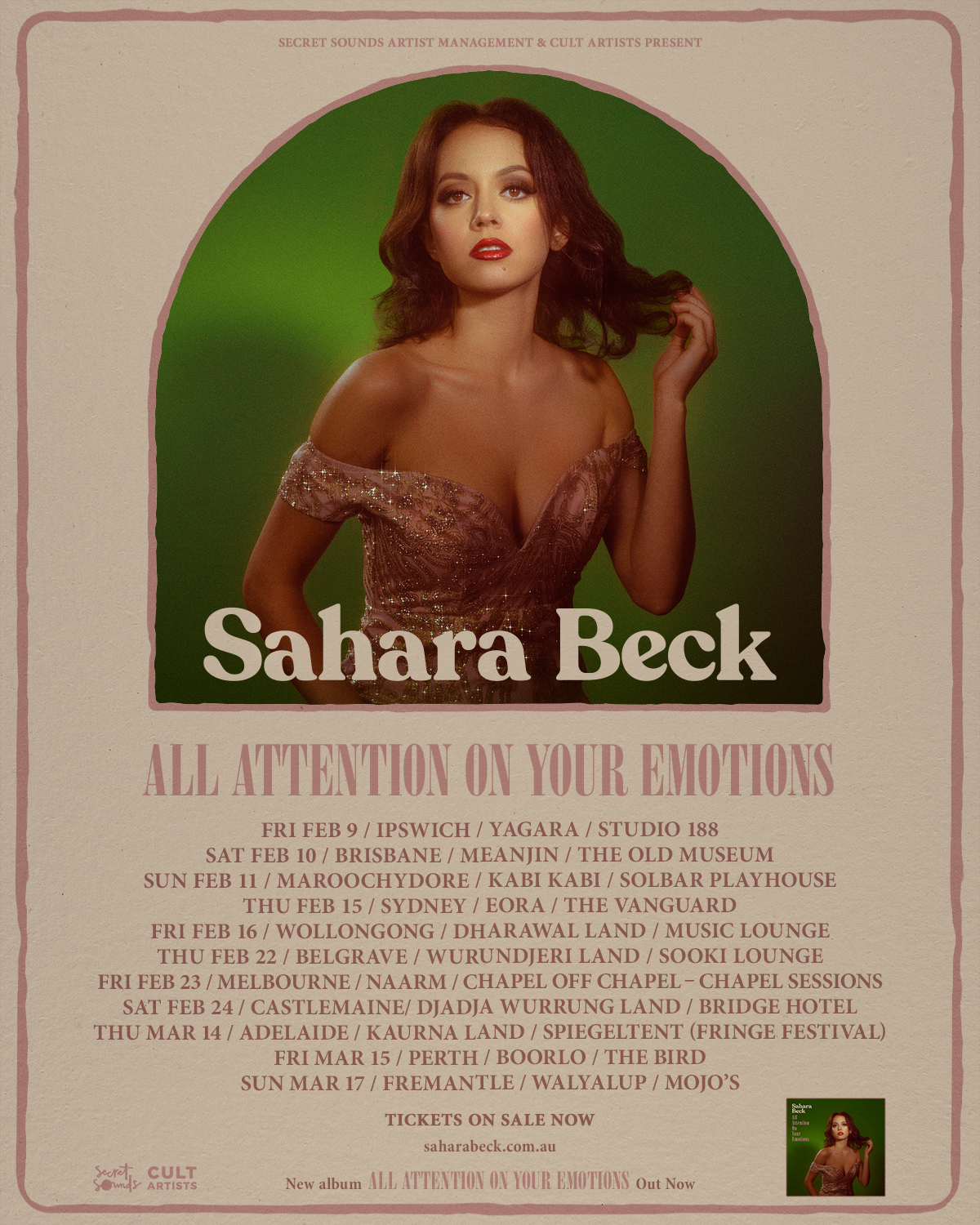 2024 All Attention On Your Emotions Tour
Presented by: Cult Artists & Secret Sounds Artist Management
Fri Feb 9 – Ipswich / Yagara / Studio 188
Sat Feb 10 – Brisbane / The Old Museum
Sun Feb 11 – Maroochydore / Solbar Playhouse 
Thu Feb 15 – Sydney / The Vanguard 
Fri Feb 16 – Wollongong / The Music Lounge 
Thu Feb 22 – Belgrave / Sooki Lounge 
Fri Feb 23 – Melbourne / Chapel Off Chapel  –  Chapel Sessions
Sat Feb 24 – Castlemaine / Bridge Hotel 
Thu Mar 14 –  Adelaide / Wonderland Spiegeltent, Adelaide Fringe Festival

Fri Mar 15 – Northbridge, Perth / The Bird
Sun Mar 17 – Fremantle / Mojos' Bar
All Attention On Your Emotions

 tracklist:
1. Compromise
2. Thinking Twice
3. Mr Breezy
4. Like You
5. Trip
6. Hard To Tell
7. Talking
8. Hunter
9. Cigarettes
10. How Many Days
About Sahara Beck:
As a songwriter, Sahara has garnered multiple accolades and international recognition with growing demand as a Topliner, having co-written and featured on tracks including Grammy winner Purple Disco Machine, ARIA club chart Queen Mell Hall, Toby Romeo and Mellowdy. Sahara was a 2022 finalist in the International Songwriting Competition and the Nashville-based Unsigned Find Comp, and in 2019, she placed 3rd in the prestigious Vanda & Young Songwriting Competition. Furthermore, she has received numerous QLD Music Awards and prestigious honours, including the Carol Lloyd Award in 2020 and the esteemed Grant McLennan Fellowship in 2023.
Renowned for her magnetic stage presence and unparalleled showmanship, Sahara Beck has graced illustrious venues and festivals across the globe, from captivating audiences at Glastonbury Festival and the renowned Queen Elizabeth Hall in London to leaving an indelible mark on events like the Edinburgh Fringe Festival, Perth Fringeworld, Woodford Folk Festival, Adelaide Fringe, Blues Festival Byron Bay, Falls Music & Arts Festival, and more. Additionally, she has shared the stage with acclaimed artists such as Bishop Briggs, The Rubens, Kim Churchill, Ball Park Music, Ocean Alley, and Paul Kelly.
With the release of All Attention On Your Emotions on October 27, Sahara is poised to take her career to the next level and solidify her place as one of Australia's most exciting and eclectic artists.
Listen