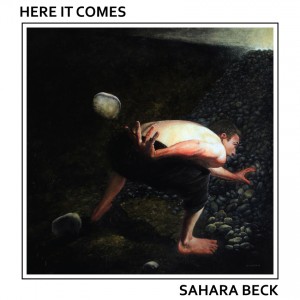 Sahara releases 'Here It Comes', the first official single to be lifted off her forthcoming album which is set to be released in 2016 via SUGARRUSH Music & Create/Control.
'Here It Comes' written and produced by Sahara and co-produced with Jeff Lovejoy (Powderfinger, Tex Perkins, Evil Eddie) is a shimmering slice of sparkly indie-pop and muddy blues. Lyrically direct, full of head spinning melody and built on an irresistible groove, it packs a sting in the tail that seems to come from nowhere, yet makes complete sense.
Deeply personal, Sahara explains "the song talks to the pressure, vulnerability and anxiety many of us feel dealing with day-to-day life. Looking a universal theme from a personal angle, the song is an exercise in pressure and release".
The single release features the stunning artwork 'Absurde' created by American painter ands designer Mark Gleason – http://www.markgleason.net – a work that Sahara was immediately drawn to as representing both the feel and lyrical intent of the song.
The 19 year old from the Sunshine Coast has already achieved so much from her career in music that began at a very young age. Sahara began writing music at age 14 and released her first album when she was 15. A year later in 2012 her song 'You Could Be Happy' was nominated for Song Of The Year at the Queensland Music Awards, and she took out the High School Category that same year. Sahara has since released 2 EP's, 2013's You Could Be Happy EP, followed by last year's BLOOM – both releases capturing her growing confidence and sense of self as both an artist and young woman.
Working with an ever-evolving crew of musicians, she has toured the country and performed at countless festivals (Bluesfest, Queenscliff, The Planting, Caloundra Music Festival) while sharing the stage with artists including, Ben Lee, Art of Sleeping, Darren Middleton, Katie Noonan and numerous more. It was Sahara's breakthrough set at BIGSOUND 2015, a performance that saw her finding her sweet spot, and dragging a packed house into her orbit.
It has just been announced that Sahara Beck will return to take the stage once again at Bluesfest 2016, performing alongside the likes of Brian Wilson, Joe Bonamassa, The Cat Empire, Richard Clapton, The National and City And Colour.